---
Red Wines
Cabernet Sauvignon
This deep-bodied wine holds within its burgundy grasp a mix of cedar and spice. Grown in the forests of the Black Shroud, aged in barrels of heritage cedar, it holds within it timeless flavours expected of the vintage.
Ishgardian Merlot
From the High Houses comes a surprisingly sensual offering. Opaque garnet tones hide a dry, full-flavoured wine with hints of plum and vanilla. Aged in oak barrels, this makes for a smooth finish.
0
The Sabotender
Sweet
Ul'dah's crystal clear tequila, shaken together with the juice of Coerthan faerie applesand a dash of syrup, is served in a sugar-rimmed margarita glass of crushed ice. Garnished with an apple peel.
Sour
Ul'dah's crystal clear tequila, shaken together with the juice of a fresh Thanalan lime and crushed ice, is served up in a lime- and salt-rimmed margarita glass over more ice. Garned with a curled lime peel.
0
Teas & Coffees
Pearl Jasmine
This jasmine tea is created using tea scenting techniques from a thousand years ago. Aromatic jasmine blossoms are used to scent tender green tea leaves. The tea leaves are then gently hand-rolled into precious tea "pearls."
Immortal Nectar
Immortal Nectar is a rejuvenating blend from the rare, cave-aged, pu-erh found in Othard's steppes. This elixir yields a deep brown colour with a light sherry bouquet. The earthy flavor is sure to soothe your immortal soul.
Ospina
Grown in the volcanic ash of the Ruby Sea, this coffee has strong warm caramel and nut flavors with a smooth and clean finish. This coffee does not do well diluted, and is made to be slowly savoured.
Black Ivory
With notes of chocolate, malt, spice, a hint of grass and without the burnt or bitter taste of regular coffee, this cup requires attention. Coffee beans are naturally processed by Thavnair's gaja and collected by industrious gatherers.
0
White Wines
Pinot Grigio
This sweetly light offering of citrus and apple intertwined with spicy notes promises to dance upon the tongue. The aroma of honeysuckle hearkens back to its roots in Gridania. A tried and true people pleaser.
Chardonnay
A full-bodied white with a dry feel, reminiscent of vanilla in its undertones, this wine is a strong offering in the chardonnay family. These bottles are shipped at significant cost from the beleaguered isles of Thavnair.
SEPTEMBER
The Martini
The Original Thanalan
Thanalan gin and the Shroud's famous dry vermouth mix together with a splash of citrusy orange bitters. Served in a chilled martini glass with a bright sun lemon twist and an optional cinderfoot olive.
The Empress' Tiara
Rye whiskey and sweet Ishgardian vermouth are mixed together to create a subtly sweet, yet spicy, flavour. A few dashes of La Noscean orange bitters complete this drink. Crowned with with a bright red eastern cherry.
0
0
Prohibition Era
Cioccolata Calda
This richly decadent and creamy chocolate beverage is served piping hot from the kitchens and is the epitome of lush splendour. A splash of mint is available at request. Comes with a small marshmallow cookie.
Hot Apple Cider
Nothing is ordinary about this deliciously tart hot apple cider despite the simplicity of its ingredients. Made from a blend pixie and faerie apples, cinnamon, and allspice, the long steeping promises vibrant flavours.
Chilled Juices
Hand-pressed by dedicated Abbiocco chefs, these delicious juices promise to be thirst-quenching alternatives to hot or alcoholic beverages. Varieties are seasonal, with apple, grape, and orange currently on the menu.
Icy Spring Water
Brought in from the chilly mountains of Coerthas and sourced from only the most pure and unpolluted of springs, Abbiocco's icy spring water promises to be a fresh and satisfying alternative to flavoured or alcoholic beverages.
Other Wines
Sparkling Syrah
From the deserts of Ul'dah comes the newest addition to the world of wine. This light red sparkling wine speaks to the heritage of the terroir of home, while still staying light and effervescent.
Gewürztraminer
A unique offering out of Hrothgar, this dessert wine speaks with notes of apricot and sweet spices. A semi-sweet flavor with a bite at the end is all you could ask for when paired with a lovely apple dessert.
SEPTEMBER
The Hive
Bees Knees or Bee Sting
Choose sweet or spicy from the hive! Two onz of pine-scented gin, an onz of fresh sun-hued Limsan lemons, and a touch of La Noscean golden honey, shaken with ice before being strained into a chilled cocktail glass over a honeycomb-shaped ice sphere.Choose the sweet Bees Knees for a sweet, sugar-crusted slice of lemon, or the Sting for a dash of spicy cinnamon and chile liqueur.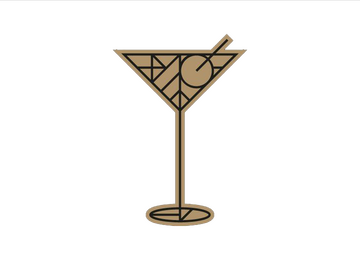 Spirits Cabinet
Mor Dhonan Vodka
A well-known and well-heeled spirit, the Abbiocco Stewards serve only the finest to their cabinets. Heirloom wheat and rye are fermented before going through five distillations and two filtrations to create this pure spirit.
Thanalan Gin
Though an established Thanalanian spirit, Abbiocco Stewards offer a gin of another level. Keeping to the juniper flavors, this spirit is further flavoured with a symphony of 47 other botanicals.
Oasis Tequila
Oasis tequila has a reputation to uphold and, in this offering by the Abbiocco Stewards, the distillery has excelled. Pure from distillation and unaged, this liquor packs a punch for the unwary.
Lominsan Gold Rum
This golden Limsan spirit is aged in charred oak barrels, bringing forward the bold deep notes very few sailors can refuse. The Abbiocco Stewards offer this spirit with the flavors of treacle, vanilla, nutmeg and molasses.
---
Getting Started: October 20, 2020
Two amateur chefs took their love for creating culinary delights to a new level, leaving behind their jobs at a nearby lounge. Nyte Snow, a Doman refugee, and Maes Otsdarva, an Ul'dah native, banded together to purchase a small plot of property in the Goblet.
Nyte and Maes did not expect rampant success, and the name they chose together, Intangible Dreams, reflected that realization. Their dreams may never be touched, may never be real, but they were going to have fun on the way.
The duo dreamed small, building up a small boutique café -- but the success of their grand opening, which saw people filling the building, the yard, and the area around -- led them to realize a small property would not be enough to recognize their long-term dreams.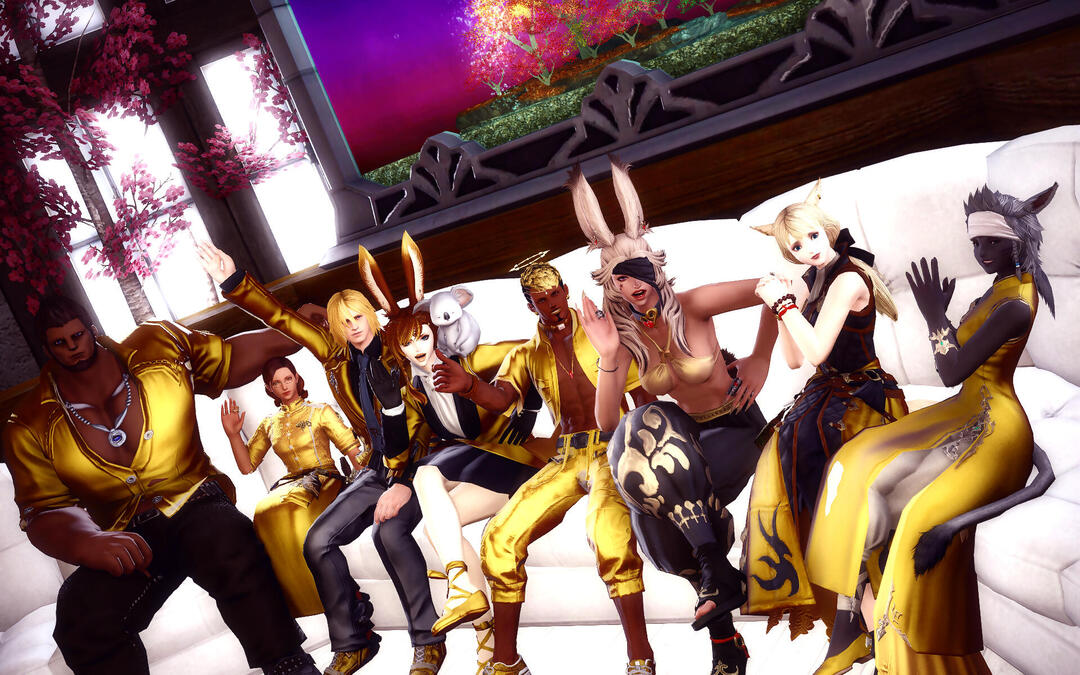 Abbiocco Fine Dining hosts the Ul'dah Gil Turtles, a blitzball team.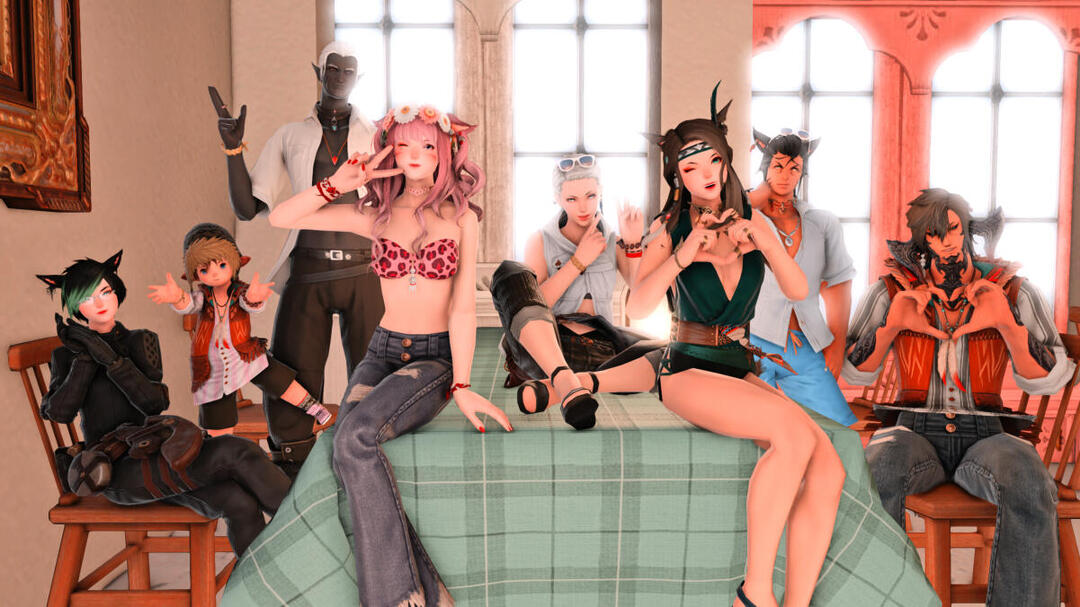 Hosting the AetherTreats pop-up ice cream shoppe during Mog Stock 2021. Seen here are some of the performers.
Upsizing the Dream
A mysterious stranger and benefactor arrived at that timely moment, offering the pair use of a larger plot of land that was all but adjacent to the original boutique café! Pulling together their profits from the grand opening and supported by their friends, the pair managed to renovate the new home of Intangible Dreams.
The following week, after hours of painting, wall-papering, moving furniture, and preparing, the new, larger Intangible Dreams opened down the street.
The intangible dream, that of a busy, thriving fine-dining establishment, all too quickly became very tangible. While Maes stepped back, Nyte continued forward, recruiting and hiring staff to build up a robust family of employees.
Five months later, Nyte and company were ready to take the final step of realizing the dream becoming tangible -- a name change:
Abbiocco Fine Dining officially opened its doors for the first time in March 2021, and in doing so left behind the nebulous what-ifs and embraced its own success.
Catering & Special Events
Intangible Dreams hosted its first special event in December 2020, a month of special Starlight Celebrations. A friend, Santa Clauws, donned robe and beard and allowed patrons to sit on his knee and whisper what they wished for at the height of the festival.
This event was the first of many, and it drove up the restaurant's catering business. From there, Intangible Dreams had doors open, working at festivals, sporting events, farmers' markets, pub crawls, and more.
In spring 2021, the restaurant became an official sponsor of the Ul'dah Gil Turtles, a blitzball team competing in Menphina Madness.
The venue is a regular at several different farmers' market-style events, and is frequently hired to cater Free Company events, weddings, and more.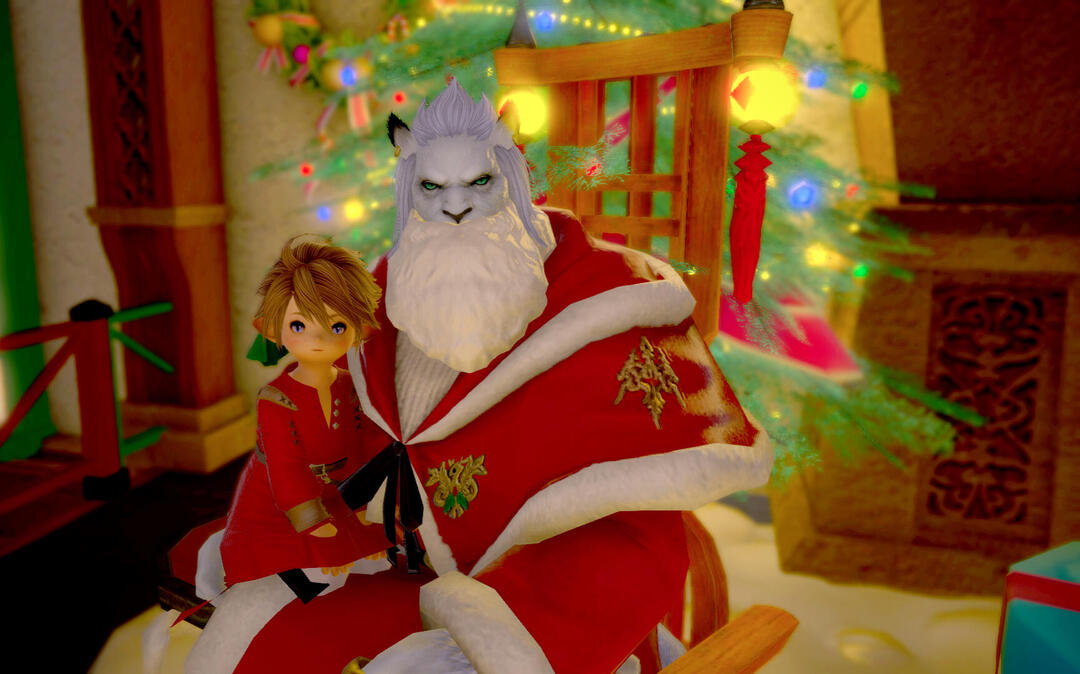 Have you been a good Lalafell this year?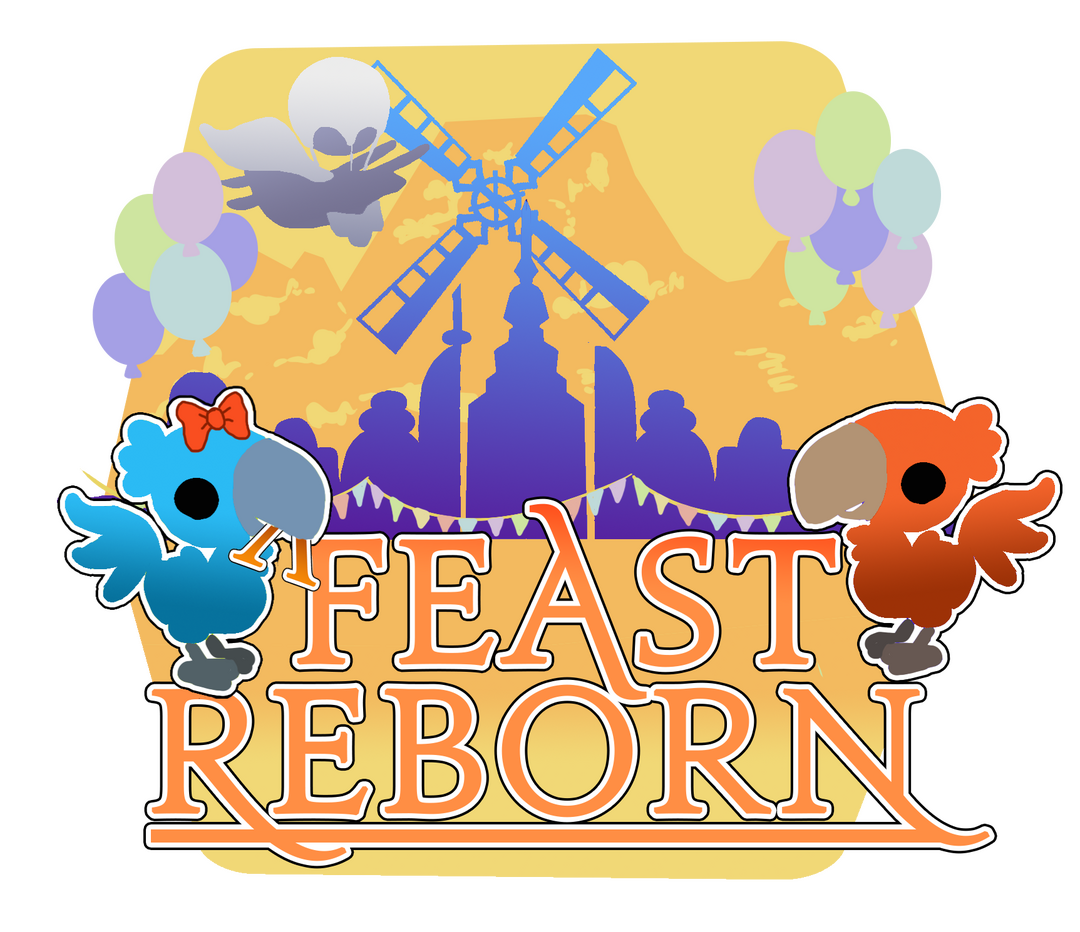 The 2022 Feast Reborn Logo. The annual food festival happens in October of every year.
A New Name & A Feast Reborn
About half-way through their first year, Maes and Nyte both realized that Intangible Dreams wasn't a good fit as far as a name goes. The dream was no longer intangible -- it had come true, far more than either of them expected.
In the spring, the duo unveiled a new name and logo: Abbiocco Fine Dining. (for those of you who speak Italian, please enjoy the joke).
At this time, Maes also stepped back, Nyte buying out his interest in the restaraunt. While Maes continued to be a primary stakeholder, he was no longer an operational decision-maker.
As Abbiocco Fine Dining reached its first year anniversary, it hatched the plan for A Feast Reborn, a single-day food festival welcoming restaurants from all over Eorzea and both the near and far East. So many venues and performers over the year had helped Abbiocco Fine Dining become self-sufficient, busy, and successful, and had helped boost its brand as a high-quality dining experience, that Nyte wished to give back. While some venues are established, several are just finding their feet -- and the festival, like many Intangible Dreams took part in during its first few months, can help make the venue a success.
Bigger & Better Dreams
A month prior to its second anniversary, Abbiocco Fine Dining realized its ultimate dream, moving into a larger venue in the Goblet. Hopping shards to Diabolos, Abbiocco Fine Dining moved to Goblet Ward 14, Plot 35, a large that allowed the venue to unite its dining venues and offer a rentable, customizable decorating hall for special events.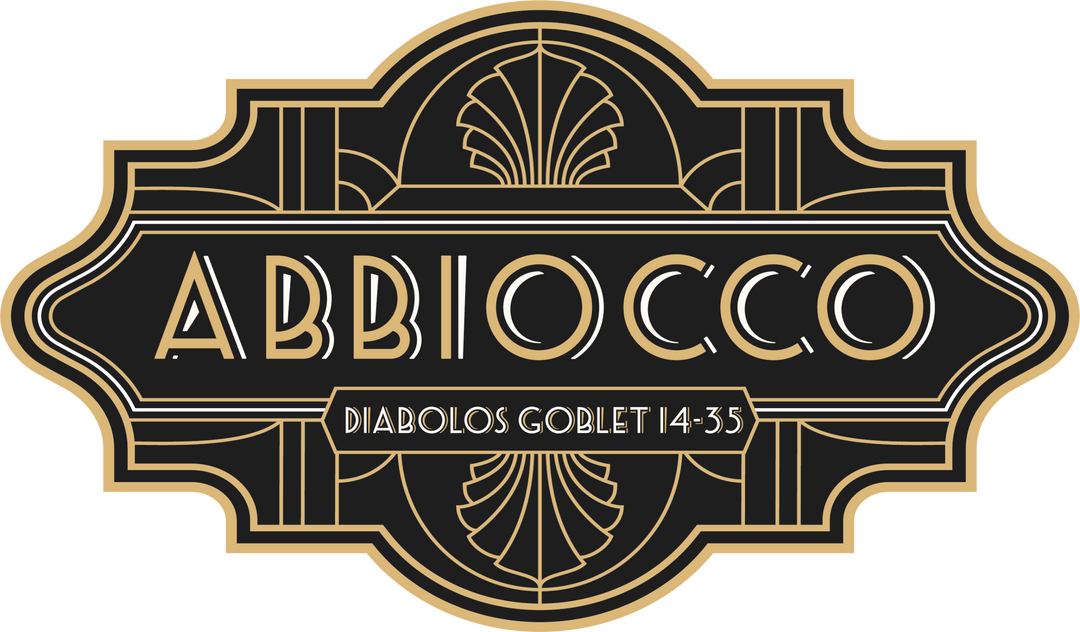 A new location, a new logo.
---
Abbiocco Fine Dining is seeking persons interested in different roles. All applicants will need to be regularly available on Monday evenings, with additional optional availability to assist with catered or private-dining events. While we are a PG-14 establishment, we ask all applicants to be age 18 or older, both Out-of-Character and In-Character.We are open from 8pm ET and our kitchen closes at 11pm ET; the dining rooms tend to empty out shortly thereafter, meaning staff can expect to be present shortly before and after these times.Staff can join in two ways: As a member of the small and slowly growing Abbiocco Fine Dining Free Company, OR through participation in our Cross-Realm Link Shell. You do not need to join the FC to work for us!Abbiocco is not an adult-oriented roleplaying establishment and that sort of in-character behaviour, while not frowned upon in general (you do you, friend), is not permitted within the walls of the Abbiocco Fine Dining restaurant, including in private rooms. This is a request of the owner of the FC/building; people caught breaking this rule will be banned from the premises.Characters may engage in criminal behaviour, but if found out, must be willing to accept the consequences. Nyte Snow is a supplicant of Oschon and is not above requesting a priest to deliver unto her a set of Oschon's fingers.
---
Roleplaying Hooks
Hiring advertisements are listed in areas frequented by those of lower means seeking employment;

Staff at the soup kitchens may recommend you to Abbiocco for work;

Nyte Snow is known as a quiet benefactor to Ul'dah's downtrodden, providing hearth & home to those refugees and homeless who are willing to work hard and show utter loyalty.
Available Positions
Cooks

Bartenders/Sommeliers

Dining Room Wait Staff

Entertainers/Bards

Shouter/Advertisers
In-Character Perks
Free uniforms

Dorm-style housing for part-time staff, full suites for full-time staff (FC rooms for those who can join the FC)

Reasonably limited access to the staff soup/stewpot & staff pantry

Tips are yours up to 500,000 gil; house takes a cut above that amount

Reliability bonuses

Wages to be discussed at hiring
Out-of-Character Perks
Free uniforms (really)

You get your tips

Occasional payouts -- if we profit, you profit! As an RP gil venue we pay out what we can afford, and that varies.

Opens doors to meeting roleplayers from all over Crystal, Primal, and Aether!

Private Discord area for staff

Supportive, cool friends

Access to an RL chef and sommelier for questions, max-level crafters (your mats, free crafting), FC on Mateus or Diabolos (where you can buy a room)
---
How to Apply
Contact any of our managers: Nyte Snow or Lakaera Riverthorn in-game or through Discord;Reach out to us on our discord. One of our members will be in touch quickly!Show up in the hour before service on Mondays.
---
The Plaza by Abbiocco - Doman Jump Fest '22
Abbiocco Fine Dining caters the first night's dinner service for the Doman Jump Fest on September 9, 2022, at Balmung Goblet Ward 6 Plot 5. Join us for our special take on our three meal options -- the Wild Hunt, the Sea Shanty, and the Flowering Feast! Find our menu on slide 7 at Doman Jump Fest '22, as well as a list of fun weekend events!
---
A Feast Reborn Food Festival - October 8, 2022 3-7pm ET
Abbiocco Fine Dining hosts the second annual Feast Reborn food festival! New and improved over its inaugural year, festival-goers will be able to partake from 15 different vendors, take part in raffles, silent auction, and various contests, have a chance at a 50/50 draw, take in musical entertainment, or participate in a cooking class! Find out more at A Feast Reborn.
filler text goes here. >.>